Hi Roomstylers!

We've got some exiting news for the end of this year: We are organising a series of contests in collaboration with Canadian design studio Clavis.

These new sponsored contests are a bit different compared to the regular Roomstyler contests (which we will continue to run). In this post I will explain this new contest format in more detail; how it works and how to participate.

So what is different?

Actually quite a lot. For instance, these new contests do not have community voting. The winners will be picked by the contest organizer (in this case Clavis) and the entries will NOT be publicly shown until the winners are selected. note: The 10 winning entries can be used by Clavis for their website or social media and the winners will be compensated in credits. Each contest will have a different theme (we will tell you a bit more about the first one) but before that we have to tell you about another big difference:

You need to use the new editor for these contests!

Over a year ago we introduced the new Roomstyler editor. We think this new editor is a really big improvement and anything that can be created with the old editor can be created with the new editor. We understand that change is hard so that is why we still kept the old version alive and will for the coming period. However, all our new development is focussed on this new editor and through these new contests we hope to convince you to give our new editor a real try.
The new editor has many advantages for Roomstyler users like multiple floors, multiple cameras, more advanced construction tools and much more. Next to that, the new editor also makes use of a new render engine. This engine has similar capabilities as the Photorealistic Roomstyler renders so all renders created with the new editor have photorealistic quality, even the free SD renders. Plus, if you upgrade a project once to HD (for a one-time fee of 2 credits) you can make as many photorealistic HD renders of that project as you need, without paying extra credits for every render. We are sure you are going to make great use of this 🙂 Take a look at this blogpost to see some of the differences and similarities

The first sponsored contest theme: Christmas Living Room.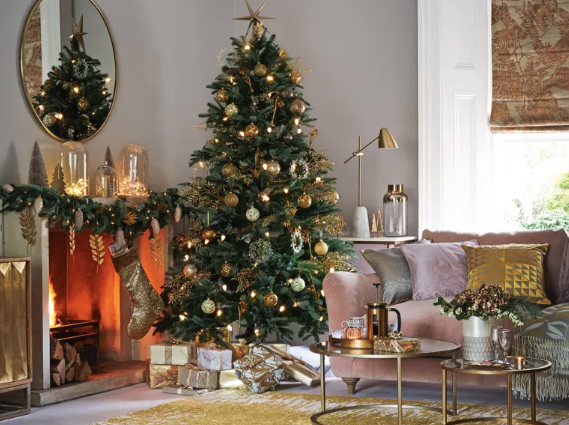 As the days get shorter and darker, the best place to come together and spread some cheer is the living room. It's also the perfect place to show off your Christmas tree, so for this contest design a living room decorated for this season in your choice of style. This could have a contemporary vibe with a cool and calming palette or it follow a more traditional route of red and green with gold touches for a nostalgic feeling of comfort and joy.
How to participate?
You need to create a room with Clavis items that fit the theme. You will need to do this in a special contest project. To start, click on the button below:


Free HD renders for every participant and more credits for the winners!

The sponsored contest project you will create will be HD by default. This means it can have multiple floors and design variants and it gives you the option to make as many photorealistic HD renders as you need. This project will remain available, even after the contest has ended.
After you have created your design you can go to your dashboard, click on the Clavis project and an extra button will appear that will only be visible for the time the contest is active. Use this "Enter contest" button to select one of your exports of this project for the contest. Created an even better render? No problem, you can always withdraw your current submission and resubmit your improved export.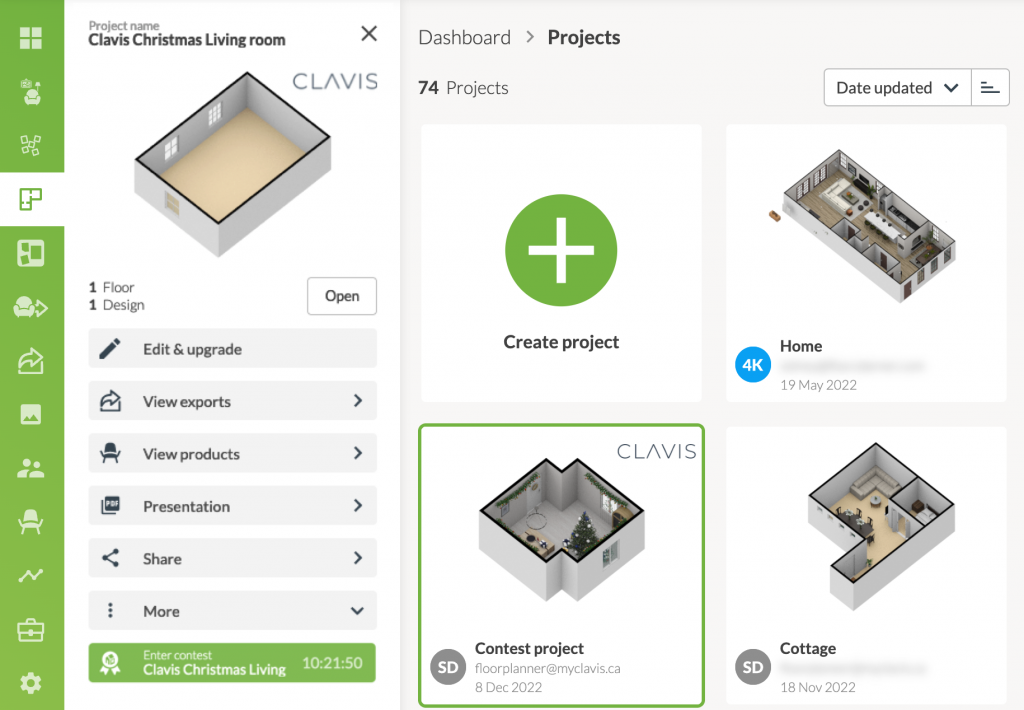 Besides the free HD project we will award 10 winning entries with credits: the top 3 with 70, 60 and 50 credits for 1st, 2nd and 3rd places, and the other 7 winners with 30 credits each. Note these credits can also be spent on HD, 4K or even 8K upgrades for new editor projects.

It is also a bit of an experiment for us so let's get started!

We will be focusing on one new contest at a time, that will run for ten days, and each contest will start every two weeks. Our aim is to bring you an improved and better integrated system, but if you have any concerns please feel free to leave any comments and we'll do our best to answer your questions.

Have fun!