Hi All,
As a few hundred of you have already switched to the test version of the new Roomstyler dashboard. I'd like to give you some updates of improvements we made over the past 1.5 week.
This might give more of you a reason to explore the new dashboard. You can find instructions for this in my previous post.
Update your profile from the new dashboard
You can now update your public roomstyler profile also in the new dashboard. Click on the "Edit public profile" button under the avatar.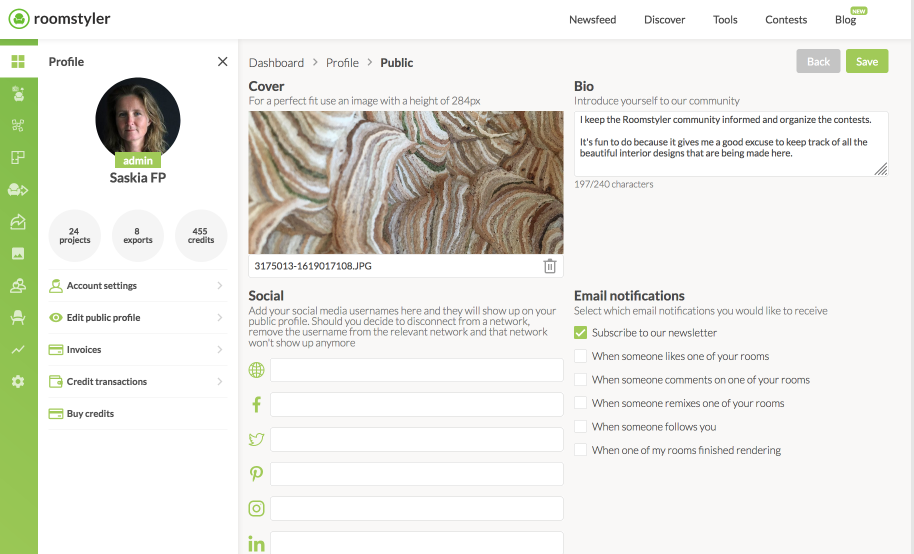 Newsfeed settings
What you want to see in your newsfeed can now also be adjusted from the new dashboard. Under the newsfeed in your dashboard you now see a small settings icon. When clicked this pops up a settings menu for your newsfeed.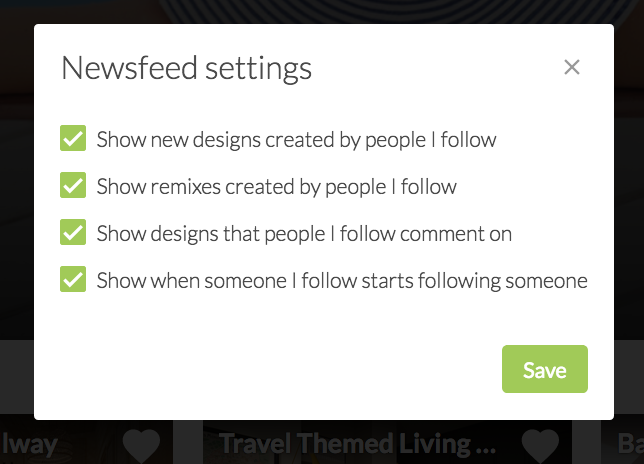 Tweaks for publishing rooms
We made some small adjustments to the publish options. Rooms/projects created in the old and in the new editor are now private by default.

In the near future we are going to probably even remove the option to publish a room directly, without even knowing how the endresult does look like. As all initial exports will be private by default in the future you need to explicitly publish your rooms using the best exports you made from the design. This can be done via the 3rd option in the Create room + button popup. This allows you to choose one of your private exports (old tool or new editor) and add a name and description so you can make it public.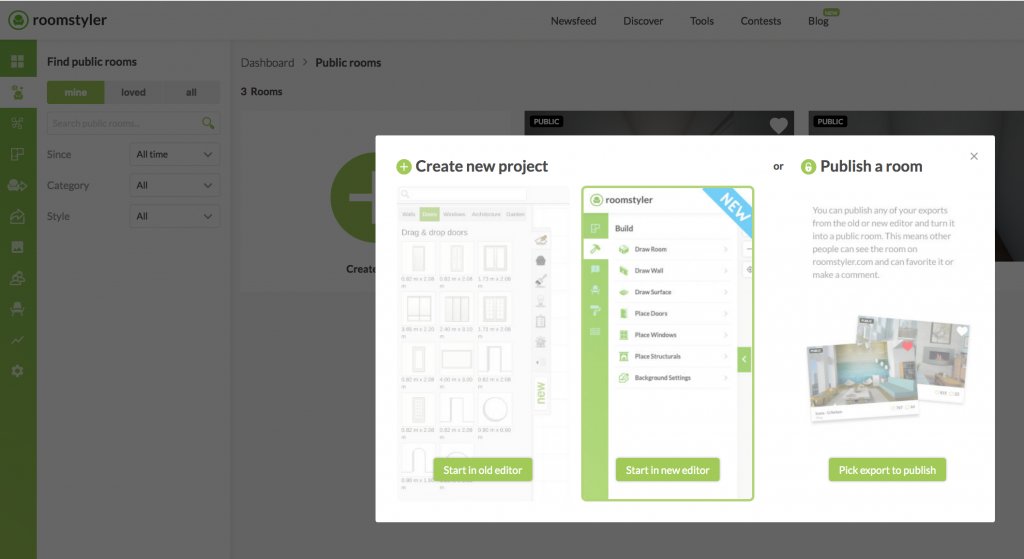 By the way we disabled the option to publish 2D exports from the new editor as a room. So all public rooms on Roomstyler will be 3D  images, also in the future.
Some words on remixes
Over the years the option to remix public rooms has been a crucial but also quite divisive functionality. Technically it wasn't that easy to make changes to how the old system worked so some of the valid concerns that were raised over time are not addressed yet. This will change soon.

Any rooms created in the new editor are not remixable by default. You can share your designs with friends so you can work on the same project or you can make a full copy of the project to send to another user but this is now fully under your control.

We are also planning an option to make your existing rooms (created with the old tool) non-remixable. This is something we can now add more easily to the new dashboard and hopefully will be added soon.
Let me know if you have have any questions or remarks in the comments below,
Saskia